Orcas Island Whale Watching Tours
Your Whale Watching Excursion Begins on Orcas Islands
The majority of the whales seen in the San Juan Islands are orcas (or also known as "killer whales").
Three pods, knows as the "Southern Residents" are typically here from mid-April to early October, but your best chance to see them is from late May through September, but some pods have been know to stick around all year.
On your Orcas orca whale watching tour, you may see not only orca whales, but different species of whales: gray, minke, and humpback whales also visit these waters, not to mention seals, porpoises, sea lions, otters, bald eagles, and numerous seabirds (great blue herons, rhino auklets, surf scoters and maybe, if you're really lucky – puffins).
You'll aquire a whole new cetacean-centric vocabulary… spyhops, breaches, and single and double tail lobs.
On some whale watch tours, you'll hear via hydrophone the whales calling to one another and most boats have an onboard naturalist to explain what you're hearing seeing.
Go Whale Watching
Whales have been sighted throughout the year in the islands, but planning your expidition between March and late September will give you a much, much better chance at an encounter with the cetaceans.
Although Orca whales are the most common sightings, bottle nosed dolphins, gray and minke whales have been spotted as well as Dahl's porpoises (which can sometimes be mistaken for Orca whales).
---
Deer Harbor Charters celebrates its third decade of whale watching and marine wildlife tours in the San Juan Islands. Deer Harbor Charters is simply the best way to see and learn about orca whales and other marine wildlife of the San Juan Islands. Daily educational narrated trips with experienced captain/naturalists aboard. Awarded the 2011 Orcas Island Chamber of Commerce Award for Environmental Excellence. We'll cruise through protected waters in search of Orca whales and Minke whales. Along the way we will also look for bald eagles, seals and porpoises. Bird watchers will delight in the numerous types of seabirds we will encounter. Wildlife sightings will vary depending on the time of year. Deer Harbor Charters conforms to all federal whale and wildlife watching guidelines. Our boats are all U.S.C.G. inspected, conforming to all U.S.C.G. safety requirements, operated by an experienced, licensed captain.
Enjoy an Orca Whale (aka Killer Whales) nature tour on Orcas Island's all weather family style boat and Renew Your Spirit with Nature. U.S.C.G. Licensed Master Capt. Daniel Wilk was born and raised in the Pacific Northwest. Dan and Denise Wilk have 29 years combined island residency. Both have extensive boating careers. We have a trained Naturalist on board and are waiting to share the adventure with you! There is a small library for your convenience. We also offer the Orca Whale adoption program through the Whale Museum. We provide special interests for the little whale watchers in the family — coloring and educational books for their enjoyment. Whale Watching (Approx. 3.5 hr.) With ever-changing cycles of nature, each tour is unique. You will discover the excitement of meeting whales, eagles and more in their natural habitat. An unpredictable wilderness, full of surprises, is waiting just for you. You will never forget it!
Join one of our Whale and Wildlife tours departing from Smuggler's Villa Resort and West Beach Resort both near Eastsound on Orcas Island. Come out and site orcas whales, gray whales, humpback whales, porpoises, seals, sea lions, otters, bald eagles, and much more. Our boats are faster and have a much longer range than any other tour boats in the region. We find Orca whales far more often than any other company in the San Juans or Bellingham. We will head deep into Canadian water – even past Victoria or Vancouver to find Orca. We will travel up to 50 miles each way, 100 miles round trip if it means seeing Orca. We are so confident that you will see whales that if you don't you can come again for free! We offer Whale and Wildlife Tours Year Round.
About Orca Whales
Orca, or Killer Whale, Orcinus orca
Max. Length: males – up to 30 feet; females – up to 26 feet (8 feet at birth)
Max. Weight: males – up to 8 tons; females – up to 5 tons
Just to give you an idea about how big…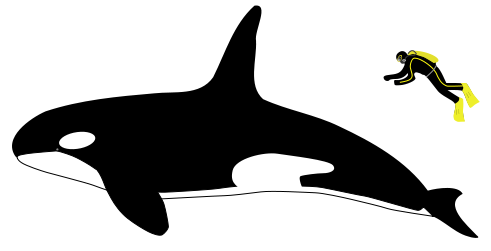 Although orcas are also referred to as "killer whales", there is no record of a wild orca ever having killed or hurt a human being. Experts are divided as to whether the incidents involving captive orca whales have been accidents or deliberate attempts to cause harm.
Largest of the dolphin family, orcas inhabit every ocean on this planet. The marine inland waters of British Columbia and Washington State have approximately 300 orcas that are organized into about thirty pods or social groups. The pods vary in size from five to fifty animals, with the average pod having between five and twenty animals. Scientists use an alphanumeric system to distinguish between pods and identify individual animals.
Three distinct communities of orcas have been observed in the Salish Sea since the early 1970s. Each community has its own dialect, or unique vocalizations. The southern resident community is comprised of J-, K-, and L-pods, currently totaling 89 individuals. Their 200-mile range extends from Olympia, Washington, to Campbell River, British Columbia. Summer sightings are concentrated in an area extending from the Straits of
Juan de Fuca to the San Juan Islands and Gulf Islands. They have also been sighted along the outer coastal areas of Washington State and Vancouver Island. The northern resident community consists of 16 pods totaling approximately 225 animals. Population surveys are more difficult to obtain for the northern pods as the range extends from Campbell River, British Columbia, up to Alaskan waters. The third community is comprised of 15 smaller pods known as transients. These groups have a less defined range and observers have recorded sightings from Alaska to Oregon. In recent years researchers have identified another group known as the "off-shores." Very little is known about this population, although observations of the same individuals have been made from Canada to California.
Orca pods have a complex social structure. Resident pods may travel together for days or weeks, but there has never been a recorded incident of an individual changing pods. The pod is divided into maternally centered subgroups consisting of mothers, calves, and siblings. These maternal subgroups have a strong social bond and individuals remain with their maternal elders for life. Through their long-term study of the northern and southern resident, Canadian and American researchers have compiled one of the most extensive studies of any wild animal population in the world.Identification:
most commonly seen during late spring through early fall in this area
black on upper body with distinctive white or gray "saddle patch" marking behind dorsal fin, white oval eye patch, white undersides with elliptical patterning that extends from the lower jaw to flukes and onto flanks
adult females have a 3- to 4-foot crescent shaped dorsal fin; adult males have up to a 5-foot tall, triangular dorsal fin with the height being more than the width of the base
resident population is seen in groups called pods, traveling, foraging, playing, or in sleep-rest behavior; transient orcas are less commonly seen in the marine waters of Washington State
much larger in size than Dall's porpoises and harbor porpoises